2018

March 17th, 2180. Joseph Hart.

Sturgeon Falls resident and world renowned Luthier & A self-taught musician from the age of nine, Joseph Hart has always had an appreciation for fine art and craftsmanship. Joe spent the first eighteen years of hisments that are aesthetically and aurally pleasing to the buyer, while maintaining a high level of playability. Hart Guitars will also repair, customize and modify near life in Sturgeon Falls, a small community in northern Ontario where solitude and nature helped to mold this appreciation. After an education at the University of Toronto in Philosophy and Anthropology, Joe helped raise a family of three children in Guelph, Ontario. In 2013, he moved to the Laurentians to hand build acoustic steel-string guitars in Mont-Tremblant, Quebec. Catering to custom wood selections, varied shapes and sizes, and even creating his own take on the double cutaway with the PL model series, Having moved back to Ontario in the Ottawa region close to Embrun, Hart Guitars has the mandate of building high quality instruly any stringed instrument, including electric and acoustic guitars and basses.
April 21, 2018. Chanelle Albert and The Easy Company.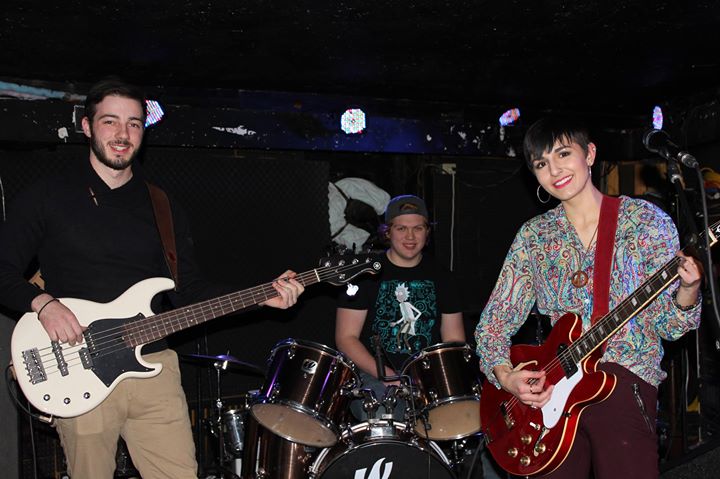 Chanelle Albert is an independent singer, songwriter, composer, and multi-instramentalist based out of Sudbury, Ontario. Her style takes root from a variety of genres including folk, rock & roll and the blues and her craft is greatly influenced by artists such as The Beatles, Leonard Cohen, Janis Joplin, Bruce Springsteen, Patti Smith and U2.

Born in North Bay and raised in the small Canadian town of Verner in beautiful Northern Ontario, Chanelle started song writing in 2012 at the age of 15, writing in both English and French when creating her music and poetry. She has since released her debut album How Beautiful We Are in 2015 which has earned her two national award nominations in 2016, including the Toronto Independent Music Awards in the category of "Best Folk or Roots", and the Canadian Folk Music Awards in the category of "Young Performer of the Year".

In 2017, she was among the top 6 finalists from across Canada in the Francophone singer/songwriter competition and TV Series, Planète BRBR on TFO. Furthermore, Chanelle is the recipient of the prestigious Governor General's Award for her illustrated story Le Grand dérangement d'Élise. The ceremony was held at Rideau Hall in Ottawa, Canada where she received the award from Their Excellencies the Right Honourable David Johnston, Governor General of Canada on November 19, 2010. Two years later, Chanelle was chosen in the lead role as Cosette in the TOROS production of Les Misérables. The sold out musical was held at the Capitol Center in North Bay, Ontario which ran from August 8 to 12, 2012.

X X X X X X X

Chanelle Albert est une auteure-compositrice-interprète de Sudbury, Ontario, qui aime mélanger les genres en intégrant blues, rock & roll et folk à ses pièces musicales. Elle s'inspire d'artistes tout aussi divers tels que, Leonard Cohen, Janis Joplin, Bruce Springsteen, Patti Smith et Barbara.

Née le 12 février 1997, dans le petit village de Verner situé dans le nord de l'Ontario, Chanelle a commencé jeune à montrer ses talents d'auteurs. En effet, elle fut la récipiendaire du prestigieux Prix du Gouverneur général pour son histoire illustrée Le Grand dérangement d'Élise. Son Excellence, le très honorable David Johnston, gouverneur général du Canada, a remis le prix à Chanelle lors d'une cérémonie qui a eu lieu à Rideau Hall, Ottawa, Canada, le 19 novembre 2010.

Dès l'âge de 15 ans, elle écrivait des chansons anglaises et françaises ainsi que de la poésie. L'année 2015 marqua un tournant important dans sa jeune carrière, puisqu'elle lança son tout premier album intitulé How Beautiful We Are. Artiste passionnée par la musique, on y retrouve Chanelle qui chante et qui joue également le piano, la guitare, l'ukulélé et la musique à bouche. Par conséquent, cet album lui a mérité deux nominations au rang national, au Toronto Independent Music Awards pour « Best Folk or Roots » et au Prix de musique folk canadienne pour « Jeune artiste de l'année ».

En 2017, elle a représenté la région de Sudbury au concours pancanadien, Planète BRBR de TFO et elle a terminé dans le top 6. Depuis, elle a créé un groupe indie rock du nom de Chanelle Albert & The Easy Company, dans lequel elle est la chanteuse et guitariste principale, accompagné par le bassiste Kyle Jobin et le batteur Ryan McEwen.

Depuis ses débuts sur scène dans le rôle principal de Cosette de la comédie musicale Les Misérables au Capitol Centre à North Bay en 2012, Chanelle séduit son public par sa voix vibrante et sa présence naturelle sur scène. Ce sont ces ensembles d'éléments qui la rendent si unique.
April 27 & 28, 2018. The Sarah Burton Band.
Burton's career started in 2006 with a broken heart, a broken down van, and a haphazard tour across Canada in a van named Lucky. This set the tone for an artist life driven by adventure, spontaneity, and a desire to connect with people from all walks of life. 3 Minivans, and several greyhound trips later, Sarah has played 200+ shows a year, released 4 albums and played many festivals across North America, finding and sharing the inspiration for hundreds of songs. Rooted in folk, and skirting pop, rock and country – Sarah's music is a collage of her own adventures, and the people she meets along the way. Her songs have made their way to the big screen, earned college radio charting in US and Canada and commercial radio play in Canada and Europe.
May 4, 2018. The Campbell Woods Duo.

Campbell pays attention. He's been doing it for years in the bars of the Ottawa Valley, festivals and halls across Eastern Ontario, the whole map of Halifax music venues: The Carleton, The Company House, Gus' Pub etc…plus sitting in and jamming with and opening for friends from across Canada. He sings and plays guitar, most of the time he can cover bass and keys, too.
Along the way, Campbell paid attention to mentors: Brian Kobayakawa, Lynn Miles, Marcus Mosely, Drew Gonsalves. He paid close attention to the legends: Townes Van Zandt, Gram Parsons, Linda Ronstadt.
His record, Oxford Street, testifies to a sound that is contemporary while evoking the weathered qualities of his many homes (the Fundy Shore, Lanark County, downtown Halifax, Ottawa, Victoria).
His songs are all about attention paid and stories revealed. They are his stories and his songs, but an evening with Campbell Woods is an invitation to be reminded of your stories, our stories, and how they all echo around the room when truth is told.
May 5, 2018. The Terry Gillespie Band.

The highly regarded critic Tim Holek has called him Canada's "King of Roots Music." He has indeed been a bit of a Canadian blues legend for 40 years. Mark E. Gallo - Blues Bytes

Today their music is a sweet tiramisu consisting of liquor-soaked layers of Blues, Reggae, Country, and Jazz.
- Richard Ludmerer, Vice President, New York Blues and Jazz Society

This CD (Brother of the Blues) is truly one of the best that I have ever reviewed! - Mike Graham, OBScene, Ottawa Blues Society

BROTHER OF THE BLUES: BluesWax Rating: 9 out of 10

Terry Gillespie is one of the most sincerely talented musicians in Canada. He's a bluesman to the core, but not in the traditional sense for he has range and influences that take it to a whole new level. His blues is the truth and it comes through with every word and melody he wraps his soulful voice around. This is real." Sue Foley