2018
all shows begin at 8PM

November 10th, 2018. Simply Dave. one man one guitar and thousands of songs! 8PM showtime

November 23, 2018. Mimi O'Bonsawin Solo acoustic with special guest Chanelle Albert.
If you can embrace the grace and power of Northern Ontario landscapes, you will feel the music of Mimi O'Bonsawin. She epitomizes the powerful scenery and the beauty of its waters through her music, all the while yielding to her rich and warm French Canadian and Abenakis heritages. Her musical creations flow through a center of love, with the intention to give back and spread awareness.
Her Newest Single, You Found Me, seeks to be a compelling and intimate follow-up to her two previous albums and is the first of a collection of acoustic songs set to be released early 2019.
Mimi's music has gained some momentum and has received various awards and nominations. She has performed on prestigious stages such as at Midem in Cannes, and Yonge and Dundas Square in Toronto. As she writes and tours, her supporters are spread across the world as she gains recognition in Canada and India. She has shared the stage with the likes of Buffy Sainte-Marie, Crystal Shawanda, Francesco Yates, Tom Wilson and more. Mimi's music is regularly aired on CBC, Walmart and LCBO radio, and streamed through Stingray and Galaxy, as well as on stations across Canada. Her song 'Stone Gaze' was placed in Showtime's Ray Donavon TV Series (E1S5) and other tracks from her records are featured on APTN's Mohawk Girls.
Mimi O'Bonsawin's presence is not limited to the stage and radio play. You may witness her passion for songwriting and music by attending her inspirational workshops given in schools and conferences across the country. "Rhythm and Rhyme" explores the theme of empowerment through songwriting and storytelling with students from grades 4 to 12 in French or English. Through introspection and creative exercises, participants discover interesting connections to the world around them and how music is easily created, even without an instrument. These interactive workshops draw even the toughest nuts out of their shell and usually end in sing-alongs or impromptu concerts by the students, not to mention smiles and hugs.
It has been said that at the age of 24, Mimi O'Bonsawin is an old soul who is not afraid of creating intimacy with her audience and sharing laughs and tears and teaching you a thing or two about yourself and the world around you.
In a time where you may feel like it has all been done before, Mimi is a rare find. She is one of a kind. When you meet her, you will know it.
December 14th. 2018. Crystal Shawanda Christmas Show. Tickets $15 in advance and $20 at the door.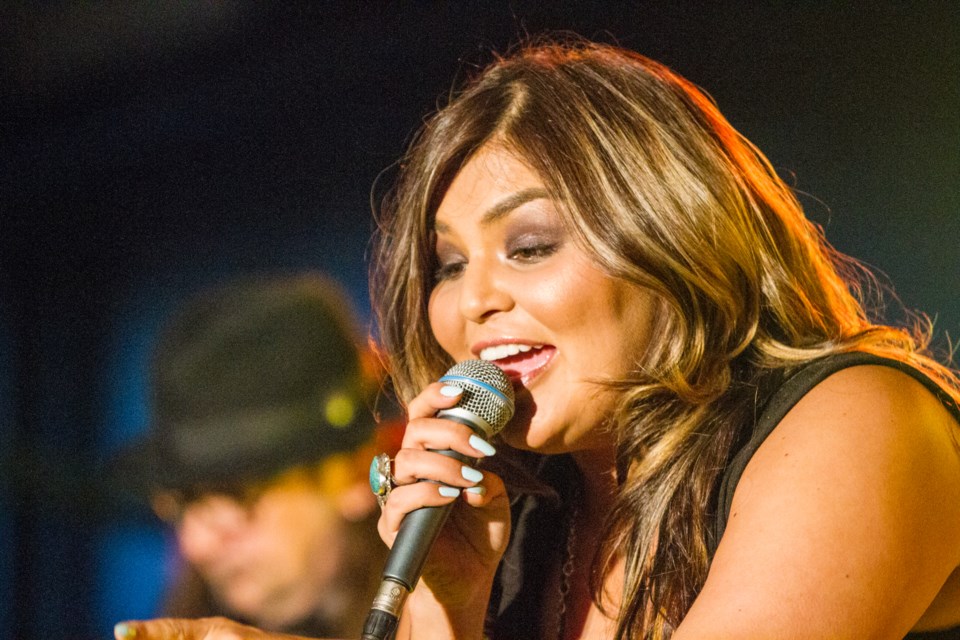 Crystal Shawanda grew up on the Wikwemikong reserve on an island in Ontario, Canada, Her parents raised her on Country music and taught her to sing and play guitar, but it was her oldest brother who introduced her to the blues. He would hang out in the basement cranking Muddy Waters, B.B. King and Etta James, and Crystal would sit at the top of the stairs, straining to hear those soulful sounds. There was a part of her that often wandered if she would ever be able to sing like that. And when no one was home, Crystal would practice singing the blues.
She learned early on, by observing her family, that music was like cheap therapy. That's what the blues is all about: releasing and healing. While she was secretly pining to be a blues mama, out on stage it was Patsy and Loretta. She started performing country when she was six and started getting paid gigs when she was 10, relentlessly playing every stage she could.
Crystal's dad was a truck driver and they started taking frequent trips to Nashville when she was 12. She recorded her first album when she was 13 and moved away from home that same year to attend a music school. Crystal got restless, however, and dropped out at 16 to move to Nashville. She didn't know anyone but was determined, so she spent days playing where she could and busking in between.
During a chance meeting with a well respected music executive, Crystal was told, "I just don't know if Native Americans make sense in country music. I don't know if fans would be receptive and I wouldn't even know how to market you." Crystal tried to take the critique with composure, but would end up moving back home to her reserve andabandoning her dream. Shawanda set out on a dark, self-destructive path, but no matter what found herself back in front of the microphone.
She finally came to terms with what was bothering her. "If I was out of tune.I could take voice lessons," she reflects. "If my song was bad, I could write another. But I couldn't change the colour of my skin." So Shawanda moved back to Nashville one more time with a mission to prove him wrong. She paid her dues, playing at Tootsies Orchid Lounge six days a week, three shifts a day, and managed to build up a buzz and land a production deal with Scott Hendricks. She was later signed to a record deal with RCA Records by Joe Galante, who had heard Crystal cover B.B. King and Janis Joplin. This venture produced a top 20 song on country radio and the highest selling album by a Native American in BDS history
After this, she found herself feeling like a fish out of water. She says, "I so wanted to be what everyone wanted me to be, I lost myself along the way." So Crystal took some time off and, one day while watching the news and feeling overwhelmed by the headlines, she walked into her music room, picked up her guitar and wrote "The Whole World's Got the Blues." This was the start of her first blues album.
"The songs just fell out of me and throughout the recording it was like setting my voice free," she says. "I can't help but feel like I'm home, no longer holding back."
Crystal's album is a modern take on the blues, but is deeply rooted with heart-wrenching laments and catchy rump-shakers. It's where the north meets the south and captures the resilience of the human spirit — much like the way Crystal does.
Crystal Shawanda is reminiscent of a time gone by. She will make you feel every word with a powerful voice that never fails, pure and gritty at the same time. Do yourself a favour and see if she's playing somewhere near you.