Entertainment Calendar
​

2017 our 10th anniversary of live music!


May 5-7, 2017. Tavern Closed gone to a wedding!

May 12, 2017. Pat Maloney. Pat Maloney is a Canadian songwriter, a storyteller, and a serious whistler. He's a concerned citizen, with a busted acoustic guitar and a fake bass drum. He's a too-tall, Ottawa ex-pat, singing songs as meaningful as he can muster, with a healthy, self-defaming sense of humor.
Since Fall of 2013 Pat has performed more than 600 times in 4 different countries. Lengthy tours of the United Kingdom during University "Freshers" and "Refreshers" seasons have galvanized his efforts as a hard-working, self-made artist. Pat is an award-winning favorite in the Canadian campus market.
In three short years, he has released three full-length albums, and a dozen "art project" style stop-motion animated music videos. The single Repotting hit number one on several campus charts in Ontario and the Maritimes.
Audiences are dazzled by Pat Maloney's natural candor on stage. The ad-lib banter comes across like a comedy show, while his brand of quirky folk music doesn't hesitate to explore the lesser-spoken meaning of things. He sings with refreshing purpose, in a rich baritone.
May 13, 2017. Dan Walsh. Canadian singer/songwriter multi-instrumentalist, Dan Walsh is already well known for his collaborations with a number of talented musicians. He's added his bluesy-bluegrass signature style to more than 40 albums and toured across North America, Europe and Australia.
For many years Walsh was a key member of Fred Eaglesmith's band, The Flying Squirrels, where he played more than a couple of hundred gigs a year and shared the stage with the likes of Willie Nelson, Little Feat, Delbert McClinton, Willie P. Bennett and the Del McCoury Band.
In 2012, Walsh re-invented himself as a solo looping artist and released his 3rd solo album entitled "Outta The Jam." Adam Dawson from Broken Jukebox writes:
"Outta The Jam is technically the third release from sideman extraordinaire, Walsh, but it's the first one the bearded one sings on. The addition of vocals is a major plus to me as instrumental music gets really boring really fast no matter how great it is. While the instrumentation, specifically Walsh's flawless guitar work, is still the star on this one, his songwriting and vocals are a welcome addition.
May 19, 2017. Jack De Keyzer.

From the Arctic Circle to Puerto Escondido, Mexico; from Athens, Greece to Hornby Island, BC, virtuoso guitarist, Jack de Keyzer plays the blues world wide. One of Canada's most awarded and in demand live performers and session guitarists, Jack has relased 8 CD's and 1 DVD. He has also played on hundreds of recordings and live sessions with artists ranging from Etta James to Ronnie Hawkins and Bo Diddley to Blue Rodeo. An incendiary live performer, soulful vocalist and world class song writer, de Keyzer performs an average of 180 shows per year and has brought audiences to their feet at many major Jazz and Blues Festivals including the Montreal Jazz Fest, Blues Sur Seine (France) The Ottawa Blues Festival and Puerto Blues, (Mexico). A much celebrated musician, de Keyzer has been nominated for the Juno (Blues Album of the Year) 5 times and won the Juno twice in 2003 and 2010. He has won 7 Maple Blues Awards (Canada's national blues awards) , first place in the International Songwriting Competition and won CBC's Great Canadian Blues Award from a poll of radio listeners. Always touring with an incredible band, Jack will have you rocking in your seat and swaying to his hot blues, soulful r&b and cool soul jazz. World class.

"The finest blues guitarist in Canada" Jeff Healey
"If Jack de Keyzer was from Chicago, New York or LA, he'd be famous" Bob Dylan
"Electric Love…a rock blues album with nods to guitar influences Clapton, Hendrix and Page… a disc of excellent new songs by a bluesman who should be considered their equal." (Maple Blues)
AWARDS
Juno
Win: 6 The Corktown Sessions/ Blues Album of the Year 2010
Win: 6 String Lover/ Blues Album of the Year 2003
Nomination: Electric Love/ Blues Album of the Year 2013
Nomination: Blues Thing/Blues Album of the Year 2007
Nomination: Down in the Groove/Blues Album of the Year 2001

Maple Blues Award
Guitarist of the Year 2007
Guitarist of the Year 2005
Guitarist of the Year 2004
Entertainer of the Year 2004
Electric Act of the Year 2004
Down in the Groove/ Blues Album of the Year 2000
Blues With A Feeling Award (Lifetime Achievement) 2001

International Songwriting Competition
Honourable Mention "The Way That I Love You" 2010
1st place Win " That's The Only Time" 2007
Great Canadian Blues Award
Winner CBC listeners vote 2009
Website
http://www.jackdekeyzer.com


May 20, 2017. Tommy Fyfe & The Whiskey River Rocking Blues Band. Tommy and the boys are back to rock the tavern as only they can!
May 26, 2017. Brock Zeman. Over the course of 11 albums, Ottawa area singer songwriter Brock Zeman has built a reputation as a writer of great depth and passion, through his thoughtful, often personal songs. But he's got a rough, rockin' side as well. Joined on relentless tours across Western Canada and down to Texas and back by his ever present collaborator, Blair Hogan, and often drummer Dylan Roberts, Zeman and crew can put on a powerful show that has attendees rocking as much as feeling the stories that he tells in song. He could easily be the bastard son of Lucinda Williams and Steve Earle, with a gravelly Tom Waits voice. On his last couple of albums, Zeman had been experimenting with dense sound scapes that told as much of the story as his words. On the newest, "Pulling Your Sword out of the Devil's Back," the words and melody are at the forefront, and with a batch of songs as strong as these, they certainly should be. The melodies on the record are his strongest yet. Many are instantly memorable, and could find a home on commercial country or rock radio. If those tired formats played powerful songs like these, "Dead Man's Shoes" could be a strong country hit, and "Little Details" or "Some Things Always Stay" would be blaring out of car windows all summer long.

May 27, 2017. The Josh Dimmel Band. A young up and coming band that plays a large variety of popular songs along with a some great new original material.
June 1, 2017. Morgan Davis


Juno Award winner and 10 time MAPLE Blues Award Winner Morgan Davis is coming to the Tavern for a very special Thursday show. No cover charge, 8 PM showtime.

June 2, 2017. Sarah Smith.

Sarah Smith is one of the hardest working people in music.
Sarah Smith is exactly where she needs to be.
As she shares her third full-length CD, 11, with the world, the London, Ontario pop/rock singer-songwriter is reflecting on lessons learned and dreaming of a bright future.
"This album sums up the last few years of my life," Sarah says. "Searching for happiness, I came across misery. Wanting to succeed, I discovered how to fail. Trying to balance, I ended up falling. Looking for answers, I found them here all along. And, in all of this, I was able to continually grasp on to hope that life was putting me exactly where I needed to be."
Produced by Juno-winning engineer Kevin Doyle, 11 is Sarah at her insightful and vulnerable best. The record features 17 new songs about love, life, and seeing the good in things – even the dark things.
"Life isn't always easy," she explains. "Sometimes there's pain. Sometimes we make mistakes, but there are always things we can learn about ourselves and the world. It takes courage, but there are always reasons to have hope. Writing this record helped me get perspective, again, on how beautiful the world can be."
11 follows Sarah's previous full-length CDs, Stronger Now (2012) and The Journey (2014). Like her previous work, the CD weaves through a variety of styles, from rock (Changing My Mind, Runaway Stay) to pop (The Dark, Girl, Undertow) and country (Lay It On The Line, Sunrise). Also like her previous work, 11 features her honest lyrics, memorable hooks, and absolutely unmistakable voice. The album introduces some new sounds to her music as well, with different songs including horn arrangements, cello and steel drum.
A seasoned road warrior whose full-time touring schedule dates back to her days in Canadian rock band The Joys, Sarah continues to feel most at home on-stage. She plays nearly 300 shows per year, primarily in Canada, the United States, and Europe. Along the way, she has shared the stage with artists including Melissa Etheridge, Sass Jordan, Emm Gryner, Craig Cardiff, Joel Plaskett, David Wilcox, and many others. Whether it's just her and her acoustic guitar or her full band, she is a mesmerizing performer. The 2015 DVD Sarah Smith: Plugged and Unplugged captures Sarah and her band in peak form, both live and in the studio.
Sarah has won and been nominated for many awards throughout her career. Her video for Into the Light, directed by Stacy Poulos and shot in California, won both a 2016 Telly Award and a 2016 Akademia Music Award for Best Video in the Pop Rock category. In 2015, she won the Toronto Independent Music Award Best Adult Contemporary honour, plus the Best Rock Artist at the London Music Awards, and Best Rock Artist at the Jack Richardson Music Awards. Music from The Journey has been featured on shows including CBC's Cracked and the movie Anatomy of a Love Seen, directed by L.A-based director Marina Rice Bader.
June 4, 2017. West Nipissing Cycle for Charity. https://www.westnipissingcycleforcharity.com/

June 9-10, 2017. The Taverns 10th Anniversary of Live Music will be held on this weekend in June!! For this special occasion we are bringing back one of the most exciting live acts in Canada, The Weber Brothers!!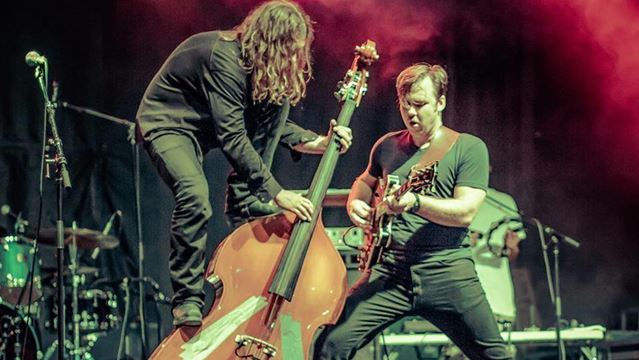 There are bands for which rock and roll is a lifestyle, and then there are bands for which it is life.
To many, The Weber Brothers are the baddest band in the land.To many others, their story sits like an ancient volume in an old bookstore, dust covered, tucked away behind hundreds of newer, shinier books. Untouched. Waiting to be discovered. Regardless of what side you're on, there's an undeniable truth. In the rough and tumble world of rock and roll, The Weber Brothers have been around the block.
Ryan and Sam Weber left their Baltimore, MD home one night as teenagers, with the aim of meeting their idol, rockabilly legend Ronnie Hawkins, and ten hours later showed up at his doorstep. "The Hawk", the elder statesman of rock whose former protégés (Robbie Robertson, Rick Danko, Levon Helm, et al.) went on to reshape music history as "The Band", was duly impressed by the pair's immense raw talent, and promptly invited them to audition for his storied backing band, The Hawks. Mere months later, after surviving the intense musical apprenticeship of his fabled "Rock 'n' Roll Bootcamp," they were in: full-blooded Hawks. By the ages of 18 and 21 they had already performed alongside Kris Kristofferson, Levon Helm, Garth Hudson, Jeff Healey and David Wilcox to name a few.
June 15, 2017. Keith Hallett solo.

Keith Hallett has come a long way since area blues fans saw him open a local show, followed by a stop while touring with Garrett Mason a couple of years ago.
He has been working hard, honing his sound in the only honest way there is in the blues: on the road. As a result, he has a developed a tough, old time sound that is his own.
Visit www.keithhallett.bandcamp.com/album/hell-west-crooked
June 16-17, 2017. J.W. Jones.

IBC Winner and JUNO Award Nominee and Billboard Top 10 Blues artist JW-Jones tours constantly, and is known for his high-energy live shows.

International Blues Challenge winner (2017), JUNO Award Nominee and Billboard Top 10 Blues artist JW-Jones tours constantly, and is known for his high-energy live shows.
Jones has released nine albums, and performed in twenty-three countries and four continents. In 2015/2016, JW played over 100 shows per year, including being invited five times to perform alongside Buddy Guy, and twice with Woodstock legends, Canned Heat.
Last year, George Thorogood & The Destroyers' management specifically requested Jones to open several of their tour dates including standing ovations at Massey Hall and Ottawa's National Arts Centre.
JW's latest release 'High Temperature' was named the Hot Shot Debut on the Billboard Top 10. From the liner notes: "Acclaimed Nashville producer Colin Linden takes Jones into new territory with warm, analog-driven tones, and a wide-range of material. His evolution as a musician and vocalist shine through on this record like never before. Real songs, real playing by real people, and JW is the real deal." – Chuck Leavell (The Rolling Stones)

June 12th & 13th, 2015 Dylan Wickens & the Grand Naturals. A Swampy Blues Powerhouse Now in his 40th year, the
career and music of singer, guitarist and songwriter Dylan Wickens has focus, purpose and a story to tell.
Years of working as a sideman and occasional front man with the best in the Toronto roots scene through his twenties
and thirties provided time and experience to refine his craft and absorb the best qualities of the musicians he supported
as Wickens found his own voice, his own story, his own stage to command. ​Wickens has worked with and/or opened
shows for many of the best that Canada and abroad have to offer including Pat Travers, Sonny Landreth, Jon Knight,
The Johnny Max Band, Jeff Healey, Downchild, Serena Ryder, Robin Bank$ & Kevin Breit.
http://www.dylanwickens.ca/

June 19th, 2015. Red Dirt Skinners. Once in a while, an artist comes along who simply doesn't follow the rules.
The Red Dirt Skinners rule breaking individuality has led to them being the first band in history to succeed at both the
British Blues Awards (WINNER - Instrumentalist of the Year 2014) and the British Country Music Awards
( Finalist BEST NEW ACT and PEOPLE'S CHOICE 2013). http://www.reddirtskinners.com/index.html

June 20th, 2015. JoPo & The Rize. JoPo has gathered some of Sudbury's finest musicians into her latest band.
Ben Wardo- drums Andre Proulx- bass/vox Jamie Dupuis- lead guitar Danny Shamess- keys/lead guitar/vox
JoPo- lead vox/acoustic rhythm guitar.

July 12th, 2015. Monkey Junk. This is the first of a series of premium shows in a small venue!
Monkey Junks only appearance in a Northern Ontario bar this year!
In their relatively short 7 year existence, Ottawa, Canada-based MonkeyJunk has cultivated a unique blend of

SWAMP ROOTS ROCK. Their extensive touring has helped to develop a notable fan base across Canada, the US
and Europe. Tony D plays guitar; Steve Marriner sings, plays baritone guitar and harmonica; Matt Sobb plays drums.
They have been rewarded for their hard work with many awards including:
2014 Canadian Independent Music Award – Blues Artist/Group of the Year
2014 Juno Award nominee – Blues Album of the Year
2012 Juno Award winner – Blues Album of the Year
2008-2013 – 20 Maple Blues Awards
2010 Canadian Independent Music Award – Blues Artist/Group of the Year
2010 Blues Music Award (USA) – Best New Artist Debut
Tickets $15 in advance or $20 at the door. You can purchase your tickets at the Tavern, by phone using your credit card

or online at Ticketleap

- See more at: http://www.seanpoluk.com/about/#sthash.ruOmKGdj.dpuf
In 2010 following various musical projects Sean began down a new musical path as The Sean Poluk Band, cultivating his sound as a guitarist and vocalist, and emerging after meticulous preparation of a well-crafted work with original compositions, the CD "Never" debut in 2012, a fresh, modern blues infused album. Keeping true to his roots the underlying genre is blues, with a few tracks off the beaten path. Seamlessly blending his own style of blues with a generation of old. He interacted with some stellar musicians from British Columbia (Canada) and Madrid (Spain) and the tour following the release of Never, received a great response from the media and the general public, in both countries.
This taste guided Sean to explore deeper into his artistic path, motivating him to be closer to the sea of his audience, giving way to Sean Poluk the solo project in 2013. It is a compilation of acoustic performances, guitar and himself, accompanied by a glass slide, a sweet voice, linking hand to hand, new songs, keeping his musical style and direction, which are present from subtle touches to fun. He found, that being closer to the audience, it becomes more intimate, where the perfect communication can be achieved. In 2014, Sean released a series of live performance videos, showcasing new songs, soulfully blending various genres fusing heart and audience as one. He is currently performing in Ontario, with more dates for 2015 in cities across Canada, with the idea to continue touring in Europe and in the Spanish speaking countries.
- See more at: http://www.seanpoluk.com/about/#sthash.ruOmKGdj.dpuf