July 7 & 8, 2017. Wolves in Red.
Old school Rock n Roll with a hint of blues and funk paired with the love for vintage amps and guitars for our own unique sound.
July 13, 2017. The Ghost Town Blues Band. Tickets $15.00 on sale now.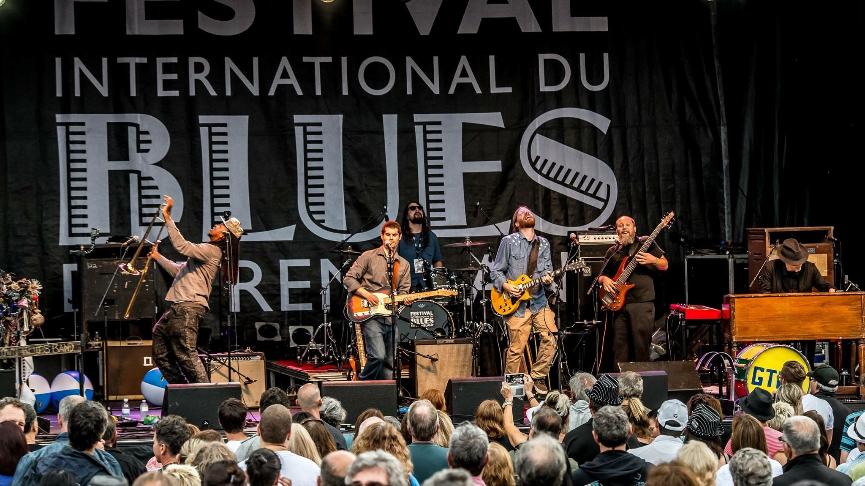 "With a shoot-from-the-hip Memphis attitude, and a STAX-busting explosion of modern blues vision, GTBB represents a welcome changing of the guard." -Living Blues Magazine

Beale Street's latest success story, 4-time 2016 Independent Blues Award Nominee, BBMA 2015 Nominee for "Best Blues Band" and 2014 International Blues Challenge Runner-up is Ghost Town Blues Band. Not your grandpa's blues band, their live show has been captivating audiences in the U.S. and Canada with a second-line horn entrance, cigar box guitars and electric push brooms to Allman Brothers style jams and even a hip-hop trombone player.
Horns, harmonies and homegrown instruments combined with an energetic and roots rich festival set makes Ghost Town Blues Band one of the "must see live bands on the festival circuit today." Both Preston McEwen behind the drums and Matt Karner on the bass guitar are a punishing rhythm section behind multi-instrumentalist/frontman Matt Isbell with raunchy cigar box guitar licks and raspy "Dr. John-like, whiskey and gravel-soaked vocals." With the addition of Trombonist Suavo Jones, Tim Stanek on B3 and Taylor Orr on lead guitar, the grooves go from funky to "funk-nasty" as the band gains more notoriety in the blues festival and jam circuit. Ghost Town Blues Band performed all across North America at over 24 festivals in 2016 and already have 20 festivals and 5 international tours booked for 2017.

"GTBB shows what can happen when the past is distilled through young sensibilities, voices, and instruments. This is 21st century blues at its best." -Living Blues Magazine
July 14 & 15, 2017. Coldshot.

Born of a collective passion for all types of musical genres, Coldshot presents as Sudbury`s purveyors of Classic Rock and Power Blues.

Coldshot has opened for such acts as Jeff Healy, The Edgar Winter Group, Trooper, Honeymoon Suite, Platinum Blonde, et al and they continue to pay homage to the most revered musical genre--the Blues.

Coldshot is --Rob Rossi--Drums/Percussion
Jim Huntington--Bass Guitar-vocals
Denis (Pie) Pilon--Lead Guitar/Vocals
Barry Holmes--Lead Guitar/Vocals
July 20, 2017. Chanelle Albert.
Our Favorite bartender and singer/songwriter
Chanelle Albert is a young and independent singer, songwriter and composer. Her style takes root from a variety of genres including Folk, Rock, Blues and Alternative and her craft is greatly influenced by artists such as The Beatles, Bob Dylan, Leonard Cohen, Janis Joplin, Bruce Springsteen, U2 and Johnny Cash. Born and raised in the small Canadian town of Verner in Northern Ontario, Chanelle started song writing in 2013 at the age of 16, writing in both English and French when creating her music and poetry. She has since released her debut album How Beautiful We Are in 2015 at the age of 18 which has earned her a nomination by the 2016 Toronto Independent Music Awards in the category of Best Folk or Roots and a nomination by the 2016 Canadian Folk Music Awards / Prix de musique folk canadienne in the category of Young Performer of the Year.
July 21 & 22, 2017. Paul Reddick Ride the One. Winner of 2017 JUNO Blues Album of the Year


Melding poetry, mystery, darkness and light, along with an extensive knowledge of the history and traditions of blues music is what makes Paul Reddick one of the most popular figures on the blues and roots music scene today. For over 25 years he's been writing and performing his eclectic brand of blues, bringing the art form to new frontiers with his rapacious, deep vocals, masterful harmonica playing and song writing. As the unofficial poet laureate of Canadian blues, words are his weapon of choice and when he sings, it is near impossible not to listen and get lost within the songs, right alongside him and illustrating what the influential British magazine Mojo described as his "wayward brilliance." A devotee of pre-war blues and classic artists such as Muddy Waters, Sonny Boy Williamson and Howlin' Wolf, Reddick formed his innovative band Paul Reddick & The Sidemen in Toronto in 1990, developing a cult-like following in the clubs and venues on the circuit at the time and spent the better part of a decade touring across Canada. Together they released four albums, two of which were JUNO nominated and in 2002 their ground breaking release Rattlebag won three Maple Blues Awards including Electric Act of the Year, Songwriter of the Year and Album of the Year and was nominated for a W.C. Handy Award in the USA.
July 28, 2017. Jaydee Bixby. Classic Country Food Drive Tour


After some time-off to spend with his new born son and his late father Bud Bixby. Country music is back with Jaydee's Classic Country Food Drive Tour. Country music is in Jaydee Bixby's blood. For generations, his relatives have been known as the Hillbilly Bixbys in Drumheller, AB, and Jaydee grew up singing at bars and rodeos with his parents' family band. Following in this great lineage of raw, honest country music is the 22-year-old's third full-length album, Work in Progress.

Having performed on stage since childhood, Jaydee was only 17 when he participated in Canadian Idol in 2007, reaching the finals and finishing in second place. From there, the young singer's life was a whirlwind of high-profile shows and media attention. He opened for icons like Taylor Swift and Kenny Chesney and cracked the top 10 on the Canadian Albums Chart with his debut disc Cowboys and Cadillacs in 2008.

He continued to mature as a performer and a composer, collaborating with visionary songwriters in Nashville and releasing the album Easy to Love in 2010. This was followed by extensive touring, which helped cement Bixby as one of Canada's premiere country talents. "My career highlight has been going on the road," he enthuses. "Just a big old tour bus and my band. Whether we were playing a sold-out show in Halifax, Nova Scotia, or we were in the middle of the bald-headed Prairies in Manitoba, that was the happiest I could ever imagine myself."

Currently based in Alberta, Bixby drew on his life experiences when penning tunes for Work in Progress, which finds him coming into his own as a songwriter. His lyrics have grown increasingly personal and insightful, something that's reflective of his life.

"I'm able to relate to more people," he observes. "I'm at that point now where age doesn't really matter. I can sit down and talk with anybody, whether they're 90 or 42. It doesn't matter — we all go through the same problems. These are all genuine experiences, whether it's a breakup or just going out and having some fun."

Certainly, there's plenty of fun to be had on Work in Progress. "Drop the Tailgate" is a stomping party number that highlights Bixby's rich baritone and rustic yodels, while the sweetly acoustic guitar-driven "Walk You Home" captures the youthful excitement of new love and was inspired by the heartfelt innocence of the Beatles' breakthrough hit "I Wanna Hold Your Hand." The album even includes an old-time country duet, "Hate to Love You," which is sure to please traditionalists.

Work in Progress was recorded in Vancouver, BC, with Bixby and longtime guitarist D Klinger co-producing alongside returning studio collaborators John Webster and Bill Buckingham. In addition to classic country, the musicians tapped into the spirit of '50s rock 'n' roll. "I love oldies — the sound and style," Bixby notes. "I don't think there's anything like it. I love the simplicity of that kind of music. It's a story and a song, and I like that you get to hear every word I say when I sing."

With this new career pinnacle committed to tape, the songwriter will hit the road and perform for audiences across Canada. "I've gotten to do some pretty phenomenal shows," he reflects of his career to date. "I've gotten to do the shows ​that I've always dreamed of doing. Now, it isn't a competition and I've got nothing to prove — I just want to play music."
July 29, 2017. The Snyders
The Snyders, formed in the summer of 2011 in Montréal, is a family band that digs deeply from many styles of blues music. The family unit is comprised of Indiana born blues-rocker Southside Denny Snyder - vocalist/lead guitarist (aka blues artist Southside Denny), his daughter Lorrie Snyder on Vocals/Bass (20 years old) and his son Phil Snyder on the drums (16 years of age).
In his own right Southside Denny earned the reputation of a legendary blues rocker with 9 album releases, and performing at notable blues clubs and festivals both in 20 states and 5 Canadian provinces. Early on he developed a strong association with Luther Allison and Sugar Blue, and in the 90's he became a regular performer at Buddy Guy's Legends in Chicago. In 1999 he won the Ole Harv award for lifetime achievement in blues music in Michiana area, and in 2004 represented the state of Indiana at the IBC competition in Memphis.
Lorrie appeared on two songs of her father's 'Full Circle' album in 2009 (winner of Québec blues album of the year) and they appeared at the Montréal Festival du Jazz, the Mont Tremblant International Blues Festival, the Canadian Guitar Festival and many others.
In 2011 Phil joined and became the powerhouse drummer that propels the band. Their 2012 debut album (The Snyders) was placed number 13 in the Blind Lemon Top 20 Canadian Blues albums of 2012 and nominated for blues album of the year in Québec. Lorrie was declared 'Upcoming artist of the Year' at the Gala Lys in Québec City on July 21rst, 2013. In April of 2013, the group was awarded the Coup de cœur for Hexagone Lanaudière in the MRC L'Assomption.
On June 8th, 2014 The Snyders
released their second album, titled Growing Pains and concentrated on growing the fan base by playing in new areas such as New York state, the Blissfest in northern Michigan and began working more in Ontario. They are currently wrapping up the final stages of 2017's Reaching Higher and looking to reach further across Canada and the US!

August 4th & 5th, 2017. Sulfur City.



Sulfur City is the first female-fronted band on Alive Naturalsound Records, and their balls-to-the-wall, high-energy gritty style fits right in with label mates like the Black Keys and Left Lane Cruiser. Their unique approach and style has not gone unnoticed.
[5/5 stars!] "Not too many bands can incorporate all the different sounds that Sulfur City does on this album. This band pretty much stands in a class by itself." – L.A. EXAMINER

"Sulfur City evoke the hard-charging, uncompromising Murder City garage-punk intensity of Radio Birdman and Sonic's Rendezvous Band, with elements of retro soul, psychedelia, a little funk and a fearlessly populist political sensibility." - NEW YORK MUSIC DAILY


Fronted by singer/electric washboard player Lori Paradis, Canadian band Sulfur City comes roaring out of your speakers with echoes of Grace Slick, Patti Smith and Janis Joplin. This is no wimpy chick rock! Sulfur City is the first female-fronted band on Alive, and their balls-to-thewall, high-energy gritty blues style fits right in with label mates like the Black Keys and Left Lane Cruiser.
Born in a small mining town in North-eastern Ontario, Lori's lyrics reflect her life experience (she has been a truck driver on a construction crew, a bartender and a house painter among other odd jobs).
"Talking Loud" was recorded at the infamous Gas Station Recording studio by Dale Morningstar (Cowboy Junkies, Neko Case), and features Jesse Lagace (guitar), Steve Smith (bass), Sam King (drums), and Keith Breit (keys).
August 11th, 2017. Skye Wallace Band

Skye Wallace is what happens when a classically trained singer with east coast roots discovers punk rock in their youth and writes folk music that makes you feel excited.Hailed coast to coast as a "national treasure" (Sad Mag), Skye Wallace bases out of Toronto, Ontario.

Her voice and sound, accompanied by her full band, is a force to be reckoned with. Her newest album Something Wicked, produced by Jim Bryson, was listed as one of Vancouver Weekly's Best Albums of 2016 and CBC's Top 8 Albums You Need To Hear This Month. Dubbed by CBC's Stephen Quinn a "kick ass record", Something Wicked will "burn you to the ground" (Vice/Noisey)!

"Something Wicked...emanates with the philosophy behind Immanuel Kant's "the terrifying sublime". This is not an album that takes shortcuts to preserve your precious heart; it's magnificently honest. Something Wicked is a rare contemporary Canadian marvel that sticks to every inch of you."
- Maddy Cristall, CBC
August 12th, 2017. Sarah Burton

"Here is acoustic, rock, bluesy, torch, indie jive, country psychedelic, soul-baring beautiful music."
- Victory Music Review
Sarah Burton's playful soul has found its home in music through three diverse albums, and countless ups and downs while traversing the globe. She's seen her way through acoustic folk beginnings, into country swing and steel guitars, then electrifying blues-rock. On her new album Make Your Own Bed, Sarah doesn't just embrace indie-pop into her musical inventory, but returns to her first inspiration; the piano.
The anticipated fourth release [Make Your Own Bed], is quintessentially Sarah Burton; full of clever lyrics and slices of life described in unique detail. It was a thought at the back of the songwriter's mind for years, as Sarah Burton got her start in music through piano lessons as a child, before switching to the role of axe-slinger and singer when performing. Recently though, Sarah found herself in front of a beautiful Steinway in Almonte, ON, with engineer/producer Ken Friesen (Tragically Hip, Hawksley Workman, Blue Rodeo), and producer Derek Downham (The Beauties, Samantha Martin), awakening the memories and stirring up the inspiration to create what has turned out to be the most beautiful and polished release yet from the popular Toronto-based songwriter.
August 18th, 2017. Monkey Junk
Since 2008, the name MonkeyJunk has been synonymous with the emergence of a new kind of blues on the Canadian and international scenes. Continually pushing boundaries and blurring genre lines, the Ottawa Ontario-based trio has added an edge to their music by incorporating swampy blues & rock with thoughtful and intelligent lyrics. Their fifth Stony Plain Records release, Time To Roll is unique in that it incorporates elements of all four of their previous recordings with added maturity in songwriting and instrumentation, cementing MonkeyJunk's originality and sound as its own.
As one of the hardest working bands on the scene today, these Canadian ambassadors of blues/rock are constantly working to up their game in terms of songwriting and musicianship, with the results being evident on Time To Roll. In just over a year since the release of their seminal recording Mood Turn Red, MonkeyJunk has delivered 10 top-notch tracks that are consistent with the quality and passionate delivery they are known for. "We wanted to push ourselves to work hard and to work efficiently and focused – to see what we could come up with in a shorter period of time. The result is a brash, groovy as always collection of songs that show where the band has been and where we have arrived in eight and a half years of writing, recording and touring", says drummer Matt Sobb.
Time To Roll was recorded at Signal Path Studios in Almonte, Ontario and mixed and mastered in just over two weeks spanning across two months. On the writing and recording process, Steve Marriner comments, "I believe we captured a more raw side of MonkeyJunk. We wrote the tunes pretty quickly and didn't do a lot of second-guessing."
Heading back to their blues roots and drawing on inspiration the runs from John Lee Hooker and Lightnin' Hopkins to J.J. Grey & Mofo and The Meters, Time To Roll is heavy on groovy riffs, solid backbeat & topped with Marriner's soulful and fervent vocals. Time To Roll is also unique and progressive for the band, as they've added electric bass on most of the songs. No MonkeyJunk recording to date has included bass, but they felt that it would be a welcome addition to MonkeyJunk's sound.
From flat-out blues-infused rockers such as "Best Kept Secret", "The Hunter" (a cover of the classic by Albert King), and "Undertaker Blues", to the moody and melodic "Blue Lights Go Down" (co-written by Tom Wilson of Blackie & The Rodeo Kings, Lee Harvey Osmond) and raucous Southern rock inspired "Time To Roll", "Can't Call You Baby" & "Gone" to the funky and soulful "Pray For Rain" & instrumental "Fuzzy Poodle".
Steve Marriner, the trio's vocalist, baritone guitarist, harmonica and organ player, was well known as the 'go-to' guy as a producer, sideman and session player. He's also toured the world performing alongside Harry Manx. Steve is also the consummate musical networker and stage guest having been invited to join many artists in concert such as Randy Bachman, Colin James and Big Sugar. At the age of nineteen, lead guitarist Tony D performed for three nights in Buddy Guy's band. In 1982, he opened for Stevie Ray Vaughn. These events helped propel him into a long-standing career with his own popular project, The Tony D Band. He has also toured with some of this country's greatest musicians, including the late Dutch Mason. Before MonkeyJunk, drummer and percussionist Matt Sobb was a very busy session drummer around Ottawa and has backed up several regional, national and international artists live on stage, touring and in studio over the last 25 years such as Kim Wilson (Fabulous Thunderbirds), Jeff Healey and Tom Wilson (Blackie & The Rodeo Kings, Junkhouse, Lee Harvey Osmond), The Tony D Band, his brother's band Marty Sobb and The Mobb among many others. MonkeyJunk has won a collective 20 Maple Blues Awards, two Canadian Independent Music Awards, a Blues Music Award (USA), and have been nominated twice for a JUNO Award, winning the award for Blues Album of the Year in 2012.
"The name MonkeyJunk comes from Son House, who once said 'I'm talking about the blues, I ain't talking 'bout no monkeyjunk.' But I am going to talk about MonkeyJunk – they are brilliant and have produced one of the best albums I have heard in a long time…; Ten tracks that prove that this Canadian band is here to stay. And as Son House would have said if he had seen these boys: 'I'm talking 'bout the blues, I'm talking about MonkeyJunk!'" – Bob Boncey, Blues Matters (UK)
"The Sultans of Swamp R&B" – William Shatner
"MonkeyJunk are keeping the spirits of Muddy Waters and the other roots giants alive with their own unique brand of music. Check it out – you won't be disappointed." – David Wilcox
"Loved your CD, some really cool tunes – It is one I find myself listening to over and over again" – Ritchie Hayward, Little Feat
"Blues, raw and different." – Star Trek captain/Canadian actor/musician Bruce Greenwood